Lizard Global's Verticals: Medical
Lotte, Digital Content Specialist
The medical field is one of the industries that can benefit from a digital transformation in many ways. Not only does technology free the way for more advanced medical machinery, such as MRI scanners and remote-controlled robot surgeons. The field of medical self-care is also becoming increasingly advanced with the emergence of cutting-edge applications, such as digital health monitor applications connected to the stats on your smartwatch, or brain training games and meditation guides. In short, the medical field is quickly becoming one of the leading digital industries. At Lizard Global, we believe that all industries can benefit from a digital transformation, including the medical industry. That's why we help our clients in their journey to digitizing their business in the medical field.
The ever-advancing medical industry
Although the medical industry has been around for ages, it has always been one to be on top of technical and technological advancements. New tools and technologies for providing better healthcare have always been welcomed with open arms by the industry. After all, when it comes to the wellbeing of our bodies and minds, we want to have the best of the best. While the medical field's main goals are to constantly streamline and optimize healthcare systems and reduce human error by implementing technologies that can do the same work but in a more precise manner, the healthcare and pharmaceutical industry often falls behind when it comes to the implementation and adoption of new digital strategies.

Many computer systems in the medical industry are still running on old operating systems and platforms, mostly because they proved to be efficient in the past. Changing to new systems and technologies requires careful consideration, among which the security of sensitive patient information exchanges and storage. A digital transformation doesn't happen overnight but can have lasting positive impacts. Every aspect that can benefit from this transformation has to be carefully analyzed in order to develop a solution that's perfectly aligned with the needs of the business. That's where an experienced digital partner like Lizard Global comes into play, to securely and professionally help these businesses in their journey towards digital transformation.
Examples of the digital transformation of healthcare
Before we dive into the medical projects we've worked on so far, let's have a look at some examples of digital solutions that have changed the world of healthcare for the better. Think of, for example, Artificial Intelligence and machine learning technologies, that are used to develop and implement smart medical devices that can take over a significant part of a surgery, and therefore allows surgeons to focus on the most important issues. Since the emergence of smartphones and applications, we've seen a massive surge in the number of applications that allow patients to have control over their own diagnosis and recovery. And although these types of apps cannot entirely take over the role of your general practitioner, dermatologist, pedologist, etc., they undoubtedly are cost- and time-efficient for both patients and doctors. Other examples of digital solutions in healthcare are:

On-demand healthcare and appointment scheduling
The use of big data to automate and aggregate information about patients and healthcare institutions
Virtual Reality for pain management and surgery simulators
Wearable medical devices that can track health over time
Projects
Lizard Global is a professional in the field of digital transformations and the development of digital solutions to optimize business processes and revolutionize any business or business process in any industry, among which the medical field. We do this together with our clients, who come to us with an innovative idea that can reshape their field of expertise. We help our clients conceptualize this idea into a concrete plan and digital roadmap, a user-friendly design and technical development to turn their solution into a functioning product.
Retiink
Together with Nicole, the founder and authors of Holding on To Hope, we conceptualized, designed and developed Retiink: a revolutionary mobile application for Android and iOS, supporting users in their recovery after a traumatic brain injury. With features such as task planners, an extensive in-app knowledge library, a supportive community and engaging and interactive brain training challenges, users can build their way up to recover their brain's strength and capabilities.

Main features:

Gamified brain training challenges
In-app knowledge library
Task planner
Support community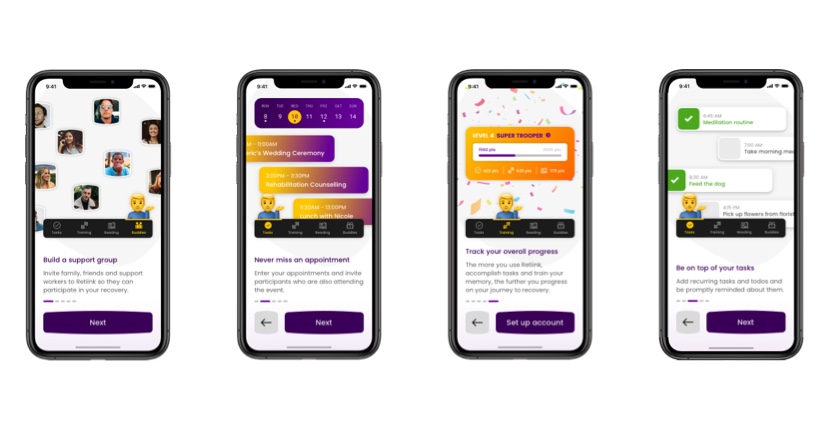 FeetClinic
FeetClinic is a startup concept that functions as an intermediate platform between patients, pedologists, feet products suppliers, health agencies, and insurance companies. Together with FeetClinic, Lizard Global developed a digital platform of the same name, with which users are guided in assessing and finding information about medical conditions. This digital solution makes FeetClinic an authority in the digital pedology field and an official health label in feet healthcare.

Main features
Health Issue Prevention
Extensive Knowledge Base
Reward Platform
Easier intake Process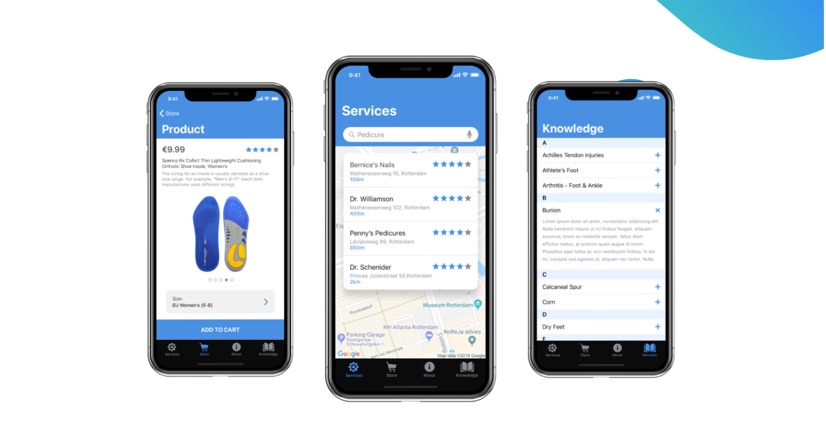 Need a hand?
Curious about our other verticals? Check out our portfolio for an insight into all the industries we're supporting with digital solutions. Or read more about our experience in the Maritime industry or FinTech industry. Want to know more about our verticals and the clients we're guiding towards the digital transformation of their business? Or do you want to know what we can do for your business? Drop us a line, and we gladly meet up with you to dive into the possibilities!